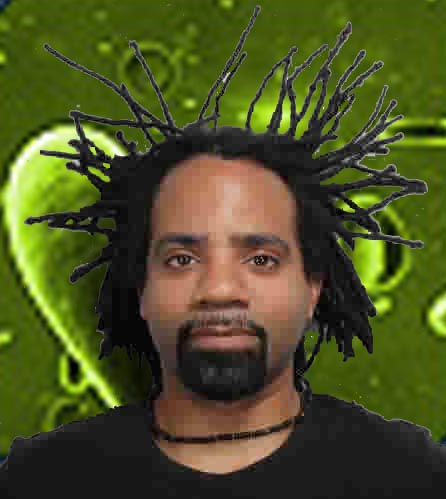 By Melina Paris, Music Columnist
Satellite Orchestra's live show keeps the music flowing. Lee likens it to a DJ continuously spinning records in a club. It's more than a groove though. Many diverse effects are incorporated from instrumental horns to galactic reverberations and are orchestrated together in such a way that it suspends your state of mind and opens it up to new possibilities. I got to see this up close at  Café Cordiale in Sherman Oaks this past April.
This Los Angeles based electro-jazz funk trio seamlessly blend funk and cool jazz vibes that is reminiscent of acid jazz but funkier. Electric keyboardist, Rodney Lee, is the leader of the band with drummer Eric Valentine and Andre Barry on electric bass. The band performs numbers composed mostly by Lee. He explained to the audience that he also creates music "on the fly," live from his laptop as they perform. They do covers as well, adding their own twist of jazz, funk and improvisation. If that's not enough attention to detail, Lee also sings backup on some of the numbers.
The trio's first number was ambient and jazzy. Lee brought in a subtle whistling sound percolating under the keys as if we were cruising through a galaxy. This flowed right into sections of saxophone and organ playfully introducing soulful rhythms.
The next number kicked off with bongo drum beats moving into solid funk. Lee brought in a string element and applied some bass and clap. Then Barry took the number ever deeper, ensuring that even his bass had bass–culminating into a solid vibration.
Satellite Orchestra moved next into a heightened electronic intro. The crash of the cymbals opened the way for Valentine's  straight ahead jazz drumming, bringing a futuristic sound at an escalated pace while the bass kept stride. Unexpectedly, an electric guitar's wah wah pedal gave their improvisation a funky electronic twist with the bass and keys holding it all down. We were embedded in raw funk!
The last selection warmed the audience up in time for spoken word artist, Anon (an acronym for "Act Now or Never"). Anon waxes poetically from this satellite with grace and eloquence. Speaking on subjects like the state of society to conducting school on the art of love on a piece he calls "The Jones." It was pure entertainment.
The soulful vocalist, Jeff Robinson sugar dusted us with his sweet velvety voice next on D' Angelo's hit, "Brown Sugar." Evoking the sweet voices of Al Green and Marvin Gaye, he presented us with funk wrapped up in a pretty box with a big bow.
The last song played in this set was, "Weird and Wonderful."  Lee started out with heavy reverb that was reminiscent of Roger Troutman's Zapp, incorporating multi-layered jazz with funk on keyboard flowing into staccato rhythms then back to funky again. Barry brought the bass so deep it was bottomless. Robinson harmonized beautifully on vocals while Valentine kept the drums building. Superb arranging; the music has the feeling of taking a journey. Flying through space and time, we were voyagers on Lee's satellite of funk.
Lee has an extensive background as a touring musician, producer, recording artist and composing for TV and film. He was musical director for Jody Watley and has worked with diverse artists such as The Jazz Crusaders, jazz guitarist Chris Standring and contemporary jazz saxophonist Mindy Abair.
"That's a key feature with the band," Lee told me after the show. "Sometimes I wonder if I should explain it or not. A person hears all the sounds coming at them and wonders, 'Is he playing it or just turning something on and off?'  You don't want it to be like a music clinic… so I opt to just let it happen."
Lee consciously decided to play with a live drummer rather than utilizing electronics for percussion. Originally the band was completely electronic thing and he was using programmed drums.  From a musician's standpoint, Lee really loved the interaction of having live drummer on the stage at a live show.
"The power comes from actually having the bass player and drummer there and it separates us from the typical electronic act, Lee explained. "We can feature the drummer or bassist on a thing or two… and there's a lot of improvisation to it. It just adds to the musicality and the show aspect of it."
For his next record, Lee said he will make a transition. The core of it will be the band's live tracks with the electronics built around it. His goal is to make it a little more special with a human touch–something that's not easily duplicated.
The great thing about the electronic music scene is its completely free creatively, there are no rules. There are very few genres that way. In the electronics world you can combine whatever you want. That's what really drew me to it, you listen to it and you don't know what's going to come next."
For more information go to rodneylee.net